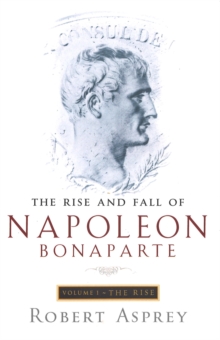 The rise and fall of Napoleon BonaparteVol. 1: The rise
0349112886 / 9780349112886
Stock expected by 17/04/2020
Reprint. Originally published: London: Little, Brown, 2000.
Since his untimely death aged 51 in 1821, Napoleon Bonaparte has been too often the victim of biographical revisionism that treats him either as a demi-god or as devil incarnate.
In the first part of a two-volume biography, Robert Asprey has preferred to treat him as a human being.The volume chronicles the beginning of this most extraordinary of lives, from Napoleon's birth in 1769 to the historic Battle of Austerlitz in 1805, when he brilliantly defeated the Austro-Russian armies.
What emerges is both a fascinating and contradictory figure: a child of the French Revolution who grew to be its master; who exploited the national will for what he believed to be the national good; who converted the surging passions of 30 million persons into an irresistible force to challenge and often topple archaic thrones; whose desire for European reforms ultimately fell victim to feudal superstition and misery.
BIC:
BGH Biography: historical, political & military, HBJD European history, HBLL Modern history to 20th century: c 1700 to c 1900