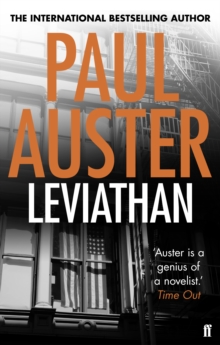 Leviathan
057127661X / 9780571276615
General (US: Trade) Learn More
Professional & Vocational
Tertiary Education (US: College)
Reprint. Originally published: New York: Viking; London: Faber, 1992.
'Six days ago, a man blew himself up by the side of a road in northern Wisconsin . . .'The explosion that detonates the narrative of Paul Auster's remarkable novel also ends the life of its hero, Benjamin Sachs, and brings two FBI agents to the home of one of Sachs's oldest friends, the writer Peter Aaron.
What follows is Aaron's story, an intricate, subtle and gripping investigation of another man's life in all its richness and complexity.
Combining an investigation of freedom and terrorism with all the tension, mystery and allusive richness familiar from Auster's The New York Trilogy or Sunset Park, Leviathan is an unmissable addition to the canon of 'one of America's most spectacularly inventive writers.' (Times Literary Supplement)'[A] Brownian motion experiment of a plot - chock-a-block with identity-swaps, sideways sweeps and lateral leaps.' Observer
BIC: