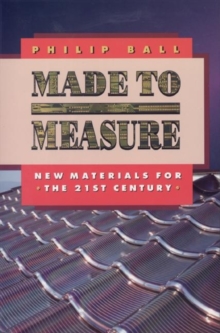 Made to measure : new materials for the 21st century
0691009759 / 9780691009759
24 cm [vii], 458 p., [8]p. of plates : ill. (some col.)
research & professional Learn More
academic/professional/technical
Reprint. Originally published: 1997.
Made to Measure is a lucid account of the most advanced new materials. While it describes today's technology, this book is really about the future. If you like the down-to-the-last-atom designer 'stuff' described within, you'll love the twenty-first century. The future will be built of such stuff. -- Richard E. Smalley, Nobel Laureate in Chemistry The Materials Era anticipated the principal frontiers in science, technology, and engineering of the second half of the twentieth century. Philip Ball, in Made to Measure, extends these frontiers into the next millennium with skillful foresight. For
This text describes how scientists are inventing thousands of materials, ranging from synthetic skin, blood and bone, to substances that repair themselves and adapt to their environment, that swell and flex like muscles, that repel any ink and paint, and that capture and store the energy from the Sun.
It shows that this is being accomplished because materials are being designed for particular applications, rather than being discovered in nature or by haphazard experimentation.Linking insights from chemistry, biology and physics, with those from engineering, the book outlines the various areas in which newly-invented materials will transform our lives in the 21st century.
The chapters provide vignettes from a broad range of selected areas of materials science and can be read as separate essays.
The subjects include: photonic materials; materials for information storage; smart materials; biomaterials; biomedical materials; materials for clean energy; porous materials; diamond and hard materials; polymers; and surfaces and interfaces.
BIC:
JFC Cultural studies, PD Science: general issues, PN Chemistry, TGM Materials science
Prizes:
R 1998 Choice Magazine Outstanding Reference/Academic Book Award