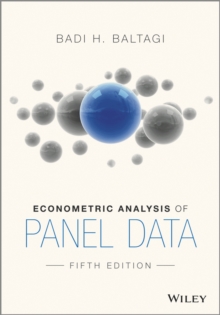 Econometric analysis of panel data (5th edition)
1118672321 / 9781118672327
Panel data econometrics has evolved rapidly over the last decade.
Micro and Macro panels are increasing in numbers and availability and methods to deal with these data are in high demand from practitioners.
Written by one of the world's leading researchers and writers in the field, Econometric Analysis of Panel Data has become established as the leading textbook for postgraduate courses in panel data.
This new edition has been fully revised and updated and includes: * A new chapter entitled Spatial Panel Data * New empirical applications * New material on non-stationary panels. * New empirical applications using Stata and EViews. * Thoroughly updated References. * Additional exercises in each chapter
BIC: