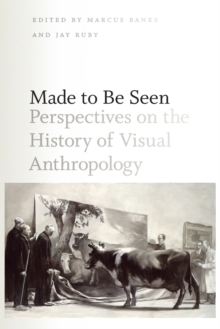 Made to be seen : perspectives on the history of visual anthropology
0226036626 / 9780226036625
23 cm 419 p. : ill., ports.
Professional & Vocational Learn More
Postgraduate, Research & Scholarly
Undergraduate
"Made to be Seen" brings together leading scholars of visual anthropology to examine the historical development of this multifaceted and growing field.
Expanding the definition of visual anthropology beyond more limited notions, the contributors to "Made to be Seen" reflect on the role of the visual in all areas of life.
Different essays critically examine a range of topics: art, dress and body adornment, photography, the built environment, digital forms of visual anthropology, indigenous media, the body as a cultural phenomenon, the relationship between experimental and ethnographic film, and more.
The first attempt to present a comprehensive overview of the many aspects of an anthropological approach to the study of visual and pictorial culture, "Made to be Seen" will be the standard reference on the subject for years to come.
Students and scholars in anthropology, sociology, visual studies, and cultural studies will greatly benefit from this pioneering look at the way the visual is inextricably threaded through most, if not all, areas of human activity.
BIC: