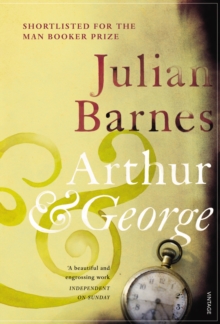 Arthur & George
0099492733 / 9780099492733
Reprint. Originally published: London: Jonathan Cape, 2005.
A brilliant novel that will take Julian Barnes sales to a new level: his most accessible, most heartfelt novel ever.
Arthur and George grow up worlds and miles apart in late 19th-century Britain: Arthur in shabby-genteel Edinburgh, and George in the vicarage of a small Staffordshire village.
Arthur becomes a doctor, and then a writer; George a solicitor in Birmingham.
Arthur is to become one of the most famous men of his age, George remains in hardworking obscurity.
But as the new century begins, they are brought together by a sequence of events, which made sensational headlines at the time as The Great Wyrley Outrages.
With a mixture of detailed research and vivid imagination, Julian Barnes brings to life not just this long-forgotten case, but the inner lives of these two very different men.
The reader sees them both with stunning clarity, and almost inhabits them as they face the vicissitudes of their lives, whether in the dock hearing a verdict of guilty, or trying to live an honourable life while desperately in love with another woman.
This is a novel in which the events of a hundred years ago constantly set off contemporary echoes, a novel about low crime and high spirituality, guilt and innocence, identity, nationality and race; about what we think, what we believe, and what we know.Julian Barnes has long been recognised as one of Britain's most remarkable writers.
While those already familiar with his work will enjoy its elegance, its wit, its profound wisdom about the human condition, "Arthur & George" will surely find him an entirely new audience.
BIC:
Prizes:
S 2006 British Book Awards: Best Read of the Year