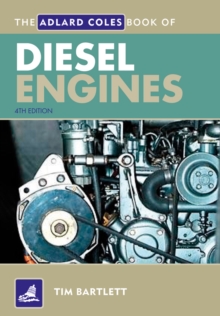 The Adlard Coles book of diesel engines (4th ed)
1408131161 / 9781408131169
The Adlard Coles Book of Diesel Enginesis aimed at boatowners rather than experienced mechanics.
In clear,jargon-free English it explains how a diesel engine works, and how tolook after it, and takes into account developments in enginetechnology. This fourth edition has been thoroughly updated and illustrated withnew full-colour photos and diagrams.
Tim Bartlett explains howthe engine uses simple processes to covert fuel to power, and thenlooks at the various sub-systems that allow those processes to takeplace.
He also advises on tools, winterizing and provides hints,tips and helpful fault-finding tables. Systems covered include: fuel, air, cooling, oil, electrical, propeller and transmission and control. 'Strongly recommended for anyone who has anything to do with the diesel engine' Nautical Magazine'A winner' Classic Boat'The next best thing to taking the course itself' Motor Boats Monthly
BIC:
TGBN Engines & power transmission, TTS Marine engineering, WSSN Boating