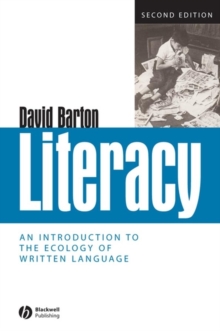 Literacy : an introduction to the ecology of written language (2nd ed)
1405111143 / 9781405111140
Stock expected by 12/06/2020
postgraduate Learn More
research & professional
undergraduate
Exploring recent developments and new research that have contributed to our understanding of literacy practices, this book provides a rounded introduction to the growing field of literacy studies.
David Barton reflects on the interdisciplinary growth of the study of reading and writing over the past decade, distinguishing between the competing definitions of literacy in contemporary society, and examining the language and learning theories which underpin them.
Since the publication of the first edition there have been many detailed studies of literacy practices in different settings.
This second edition brings the book up to date by summarizing this new research, and showing how it has contributed to our understanding of literacy.
The second edition now features a new section on how literacy research is carried out, and explores the use of new technologies.
Additional material on cross-cultural perspectives, extensive references to new research, and information detailing current educational policy are also included.
BIC: