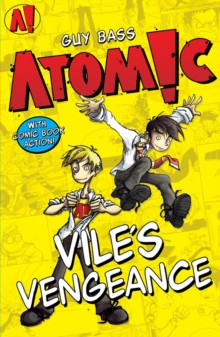 Vile's vengeance
Part of the Atomic! series
1407148044 / 9781407148045
20 cm 168 pages : illustrations (black and white)
Reprint. Originally published: 2012.
A fast-paced superhero story, filled with fun illustrations.
Jonny and Tommy Atomic are not like ordinary boys. Their dad is the most famous superhero in the world - making them pretty super too.
That doesn't mean they don't have to go to school or tidy their room though. And they're definitely not allowed to use their powers or tell anyone their real identities...But while their dad is busy saving the world, again, no one realizes arch enemy Vinister Vile has a dastardly plan - can Jonny and Tommy stop him in time?
BIC:
YFB General fiction (Children's / Teenage), YFC Adventure stories (Children's / Teenage)
Title Unavailable: Out of Print