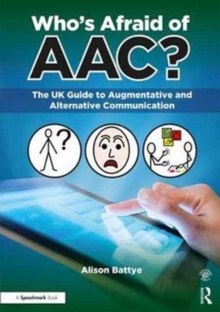 Who's afraid of AAC? : the UK guide to augmentative and alternative communication
1911186175 / 9781911186175
30 cm ix, 301 pages : illustrations (black and white, and colour)
"A Speechmark book"--Front cover.
Who's Afraid of AAC? is a clear and concise guide to Augmentative and Alternative Communication (AAC) in the UK and will be an essential resource for all Speech and Language Therapists, educators, parents and carers supporting children with non-verbal communication. This book sets out to demystify AAC by demonstrating that you already have the skills necessary to use AAC successfully.
Key features include:an overview of the different types of AACanalysis of the best available approachestools to give you the context you need to make specific recommendations and choicesthorough sections on different settings including Home, Early Years, Primary, Secondary and Special Schools so that guidance is relevant to individual needsnumerous practical examples, templates and activities to help you implement AAC in all settingssummaries of recent research and hot topics including eye-gaze technology, using AAC in exams, and internet safety so that you have the most up-to-date guidance at your fingertips. Created by a Speech and Language Therapist who specialises in AAC training for therapists, educators, and individuals with communication needs, as well as parents and carers, this is the only book of its kind written for a UK audience.
BIC:
JNSG Teaching of students with specific learning difficulties / needs, MMZL Speech & language disorders & therapy