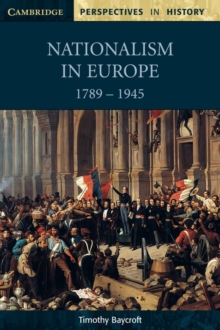 Nationalism in Europe, 1789-1945
0521598710 / 9780521598712
Stock expected by 20/11/2019
This text analyses nationalism in Europe from the French Revolution to the Second World War.
Drawing on a wide range of examples, Timothy Baycroft explains what characterises modern nations, what the theoretical roots of nationalism are, and what interaction there has been with other significant theories.
The book also presents reasons for the overwhelming importance of nationalism in the development of modern European History.
The result is a concise description of the ways in which nationalism spread through Europe and its consequences for European civilisation.
Nationalism in Europe contains a selection of primary and secondary sources.
BIC:
1D Europe, 3JF c 1700 to c 1800, 3JH c 1800 to c 1900, 3JJ 20th century, HBJD European history, HBLL Modern history to 20th century: c 1700 to c 1900, HBLW 20th century history: c 1900 to c 2000, JPFN Nationalism, YQH Educational: History, YQN Educational: Citizenship & social education