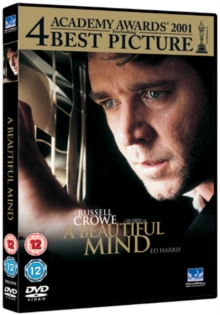 (12) Suitable for 12 years and over.
Russell Crowe takes the lead role in this award-winning biopic based on the life of the groundbreaking mathematician and paranoid schizophrenic John Nash.
Arriving at Princeton in 1947, Nash resolves to make an important new contribution to his field and begins developing his insights into game theory.
After this work proves a great success, Nash moves to MIT, where he dates and then marries his student Alicia (Jennifer Connelly).
However, it's not long before the mathematician begins to receive visits from a shady secret service agent (Ed Harris) who wants him to do some important work for the government.
Academy Awards were won for Best Picture, Best Director, Best Adapted Screenplay and Best Supporting Actress (Connelly).