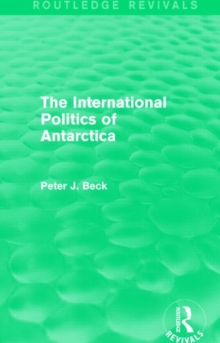 The international politics of Antarctica
1138018112 / 9781138018112
Usually dispatched within 4 weeks
Postgraduate, Research & Scholarly Learn More
Undergraduate
Reprint. Originally published: London: Croom Helm, 1986.
First published in 1986, this book considers the nature of international interest in Antarctica and the positions of those involved.
It looks at the significance of the historical dimension, the development of the treaty system, the management of marine and mineral resources, the role of the United Nations and the impact of such non-governmental organisations as Greenpeace International.
The Antarctic implications of the Falklands War of 1982 are also discussed, as well as the underlying relationship between America and the Soviet Union during the 1980s.
With a truly international scope, this reissue will be of particular relevance to students with an interest in the political, legal, economic and environmental concerns surrounding the Antarctic region, both in the present and historically.
BIC:
1MTS Antarctica, JPH Political structure & processes, JPS International relations, LBBJ International law of territory & statehood