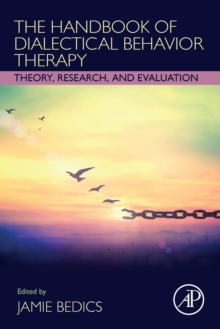 The Handbook of Dialectical Behavior Therapy : Theory, Research, and Evaluation
0128163844 / 9780128163849
Usually dispatched within 4 weeks
152 x 229 mm, 740 grams 412 pages
Dialectical behavior therapy (DBT) has become a useful treatment for a range of clinical problems and is no longer limited to the treatment of suicidal behaviors or borderline personality disorder.
The Handbook of Dialectical Behavior Therapy: Theory, Research, and Evaluation reviews the evidence-based literature on use of DBT in a wide range of populations and settings.
The book begins with the foundations of DBT: its history, development, core principles, mechanisms of change, and the importance of the therapeutic relationship.
It also reviews the efficacy of DBT for treatment of suicidal behavior, eating disorders, and substance abuse disorders, as well as its use for children, adolescents, and families.
A section on clinical settings reviews implementation in schools, college counseling centers, and hospitals.
BIC:
JM Psychology, MMJT1 Cognitive behavioural therapy, MMZR Addiction & therapy