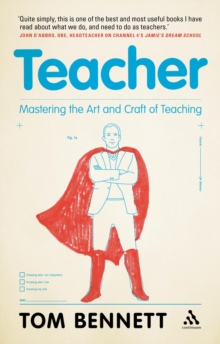 Teacher : mastering the art and craft of teaching
1441114351 / 9781441114358
Stock expected by 25/11/2019
"Teacher" offers a new approach to professional development that focuses on building an individual teaching personality, rather than following a rule book.
Most teacher manuals talk about what teachers need to do.
That's useful enough, especially for new teachers. But no list, however long, can anticipate every circumstance, and in teaching unusual circumstances are an integral part of everyday life.
But how do experienced teachers know what to do? Successful teachers develop a Teaching Character; they've worked on the qualities and personality traits that they need in order to cope successfully with the full spectrum of situations that being a teacher can involve.
Veterans don't ask themselves, 'What does the teaching guide book tell me?' when confronted with difficult situations - they react instinctively, based on the character skills they've developed over time.
Unfortunately, for most people this process of learning is unguided, and unconscious.
It's time for a self-help manual that actually helps. This book includes case studies and anecdotes, chapter summaries and humorous illustrations to help teachers reflect on what it means to be a teacher, and why it is the most rewarding profession there is.
BIC: