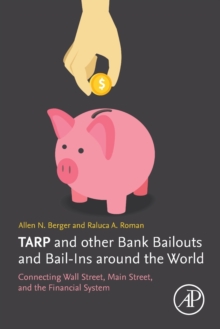 TARP and Other Bank Bailouts and Bail-Ins around the World : Connecting Wall Street, Main Street, and the Financial System
0128138645 / 9780128138649
Financial crises are recurring phenomena that result in the financial distress of systemically important banks, making it imperative to understand how to best respond to such crises and their consequences.
Two policy responses became prominent for dealing with these distressed institutions since the last Global Financial Crisis: bailouts and bail-ins.
The main questions surrounding these responses touch everyone: Are bailouts or bail-ins good for the financial system and the real economy?
Is it essential to save distressed financial institutions by putting taxpayer money at risk in bailouts, or is it better to use private money in bail-ins instead?
Are there better options, such as first lines of defense that help prevent such distress in the first place?
Can countercyclical prudential and monetary policies lessen the likelihood and severity of the financial crises that often bring about this distress?
Through careful analysis, authors Berger and Roman review and critically assess the extant theoretical and empirical research on many resolution approaches and tools.
Placing special emphasis on lessons learned from one of the biggest bailouts of all time, the Troubled Asset Relief Program (TARP), while also reviewing other programs and tools, TARP and Other Bank Bailouts and Bail-Ins around the World sheds light on how best to protect the financial system on Wall Street and the real economy on Main Street.
BIC:
KCBM Monetary economics, KFFD Public finance, KFFK Banking, KFFM Investment & securities