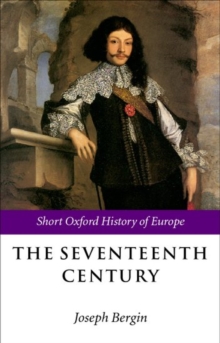 The seventeenth century : Europe 1598-1715
0198731671 / 9780198731672
Usually dispatched within 4 weeks
The complete short Oxford History of Europe provides a concise, readable, and authorititive point of entry for the history of Europe from the Ancient Greeks to the present day in eleven volumes.
In each chapter a leading expert offers focused and penetrating insights into the major themes and influences of the period.
Lying between the two great 'peaks' of European history, the Reformation and the Enlightenment in the centuries before and after, the seventeenth century lacks a clear identity of its own. And yet, it is the very proliferation of major events, crises, and processes throughout Europe that has made this transitional age so difficult to label.
This book fully explores the seventeenth century, highly significant for the future of Europe.
In a set of chapters covering and contrasting the European experience across the full century and the full continent, the reader is offered a rich, lively, and provocative introduction to this exciting period.
BIC:
1D Europe, 3JD c 1600 to c 1700, 4KL Designed / suitable for A & AS Level, HBJD European history, HBLC Early history: c 500 to c 1450/1500, JFC Cultural studies