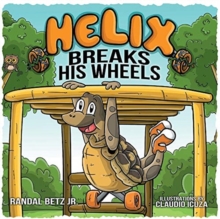 Helix Breaks His Wheels
1098306074 / 9781098306076
9 x 215 mm, 0 grams 58 pages
Helix, who has got wheels in place of his back legs, is ready to do the monkey bars. "Just swing towards the next bar, grab it with your hand, and don't forget to let go of the bar behind you so you can swing forward again," explains his friend because Helix is trying it for the first time.
Helix starts swinging but falls and breaks his wheels.
He gets upset but Mr. Torty's idea of getting suggestions from the class to fix Helix's wheels cheers him up.
All his friends suggest interesting ideas but again Herman's idea saves the day.
This is the third book in the Helix series of books.
This book teaches children to be kind and helping towards others and to be self-confident, brave and determined.
There are character pages at the end of the story about each student of Helix's class.
Each one of them is a different species of tortoise that is described in a creative and fun way.
There is even a page that documents the true story of Helix.
This series discusses social-emotional learning standards, through an enjoyable story of an adorable tortoise.
BIC: