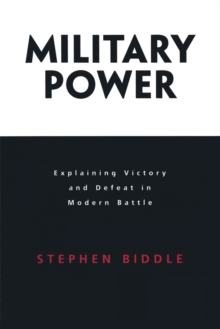 Military power : explaining victory and defeat in modern battle
0691128022 / 9780691128023
24 cm xi, 337 p. : ill., maps
research & professional Learn More
academic/professional/technical
Reprint. Originally published: 2004.
Stephen Biddle's Military Power is one of the most important contributions to strategic studies in recent decades. Presenting a very powerful case for a very surprising argument on a very important question, it will be controversial in some quarters, but critics will be hard-pressed to refute the case. -- Richard K. Betts, Columbia University, author of "Military Readiness" Fascinating, precisely written, indeed, brilliant, Military Power is among the most important books ever published on modern warfare. Stephen Biddle fundamentally rethinks the causes of victory and defeat in modern war and
In war, do mass and materiel matter most? Will states with the largest, best equipped, information-technology-rich militaries invariably win?
The prevailing answer today among both scholars and policymakers is yes.
But this is to overlook force employment, or the doctrine and tactics by which materiel is actually used.
In a landmark reconception of battle and war, this book provides a systematic account of how force employment interacts with materiel to produce real combat outcomes.
Stephen Biddle argues that force employment is central to modern war, becoming increasingly important since 1900 as the key to surviving ever more lethal weaponry.
Technological change produces opposite effects depending on how forces are employed; to focus only on materiel is thus to risk major error - with serious consequences for both policy and scholarship.
In clear, fluent prose, Biddle provides a systematic account of force employment's role and shows how this account holds up under rigorous, multimethod testing. The results challenge a wide variety of standard views, from current expectations for a revolution in military affairs to mainstream scholarship in international relations and orthodox interpretations of modern military history. "Military Power" will have a resounding impact on both scholarship in the field and on policy debates over the future of warfare, the size of the military, and the makeup of the defense budget.
BIC:
JWA Theory of warfare & military science
Prizes:
R 2005 Choice Magazine Outstanding Reference/Academic Book Award