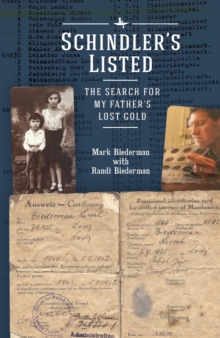 Schindler's Listed : The Search for My Father and His Lost Gold
164469008X / 9781644690086
Usually dispatched within 4 weeks
159 x 238 mm, 333 grams 270 pages, 22 illustrations
This is the extraordinary story of the author's twenty year quest to find gold coins which his father's family buried in their backyard in Poland just prior to being deported by the Nazis into concentration camps.
His father survived the war but died when the author was a teenager, leaving him only with the knowledge that he had buried coins somewhere in Poland, and no information about his family.
During his quest, Biederman uncovers many interesting and disturbing facts about his father and mother and their families, such as the fact that his father was the third person on Oskar Schindler's list and had a chance meeting with Adolph Hitler, and that his mother was selected as a cook for the infamous Dr. Josef Mengele. The book details the author's quest to unearth his family's past and his father's treasure and continues with his parent's amazing post-war years in Europe and their eventual arrival in North America.
BIC:
1DVP Poland, 3JJ 20th century, 3JJH c 1939 to c 1945 (including WW2), BG Biography: general, BM Memoirs, BTP True stories of heroism, endurance & survival, HBTZ1 The Holocaust, HBWQ Second World War