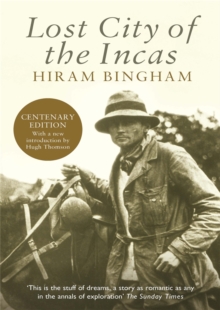 Lost city of the Incas : the story of Maccu Pichu and its builders ([New ed.])
1842125850 / 9781842125854
20 cm xi, 286 p., [16] p. of plates : ill.
Reprint. This ed. originally published: London: Weidenfeld & Nicolson, 2002.
Reissue of one of the great pieces of exploration literature Discovery of Machu Picchu was one of the most important romantic stories of the heroic age of archaeology Includes an introduction by Hugh Thomson - himself a explorer of renown 'A rich, lively book...it is the classic adventure' Irish Times 'Bingham catalogues his finds with admirable concision, and indulges his wide interests, revealing little-known facts about the Incas...He captures the majesty of the architecture in its dramatic and wild surroundings' Literary Review 'This is the stuff of dreams, a story as romantic as any in th
In 1911 Hiram Bingham, a pre-historian with a love of exotic destinations, set out to Peru in search of the legendary city of Vilcabamba, capital city of the last Inca ruler, Manco Inca.
With a combination of doggedness and good fortune he stumbled on the perfectly preserved ruins of Machu Picchu perched on a cloud-capped ledge 2000 ft above the torrent of the Urumbamba River.
The buildings were of white granite, exquisitely carved blocks each higher than a man.
Bingham had not, as it turned out, found Vilcabamba, but he had nevertheless made an astonishing discovery which he described in his bestselling book LOST CITY OF THE INCAS.
BIC:
1KLSR Peru, HBJK History of the Americas, HBLC Early history: c 500 to c 1450/1500, HDD Archaeology by period / region