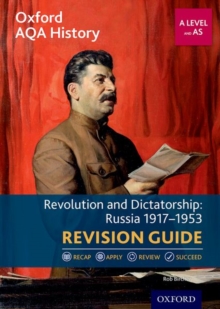 Revolution and dictatorship : Russia 1917-1953 revision guide
0198432526 / 9780198432524
30 cm 144 pages : illustrations (colour)
This Revolution and Dictatorship: Russia 1917-1953 Revision Guide is part of the bestselling Oxford AQA History for A Level series developed by Sally Waller.
Written to match the new AQA specification, this series helps you deepen your historical knowledge and develop vital analytical and evaluation skills.
This revision guide offers the clearly structured revision approach of Recap, Apply, and Review to prepare youfor exam success.
Step-by-step exam practice strategies for all AQA question types are provided (including Source Analysis and essays linked to Key Concepts), as well as well-researched, targeted guidance based on what we now know from the new AQA examiner's reports on Russia.
Our original author team is back, offering expert advice, AS and A Levelexam-style questions and Examiner Tips.
Contents checklists help monitor revision progress; example student answers and suggested activity answers help you review your own work.
This guide is perfect for use alongside the Student Books or as a stand-alone resource for independent revision.
BIC:
1DVUA Russia, 3JJ 20th century, 4KLR A/AS Level study & revision guides, HBJD European history, HBLW 20th century history: c 1900 to c 2000, HBTV Revolutions, uprisings, rebellions