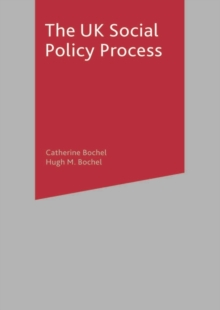 The UK social policy process
0333753410 / 9780333753415
Usually dispatched within 2 weeks
Hugh M Bochel's publications include "Parliament and Welfare Policy" and "Scotland Decides: The Devolution Issue and the Scottish Referendum".
"The UK Social Policy Process" examines the wide range of factors that influence social policies and their outcomes.
Devolution, "modernization", reform of the public services, emphases on public participation and on "what works" in the delivery of welfare are all impacting on and shaping social policy.
Combining coverage of theoretical perspectives with discussion of institutional change, this book provides an examination of the policy process and social policy, from agenda setting to implementation and evaluation.
BIC:
1DBK United Kingdom, Great Britain, JFF Social issues & processes, JKS Social welfare & social services, JPQB Central government policies