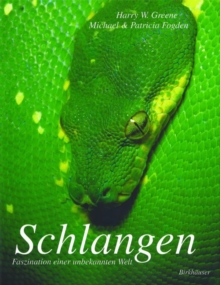 Schlangen : Faszination einer unbekannten Welt
3764358289 / 9783764358280
Usually dispatched within 2 weeks
Dieses Buch handelt von den faszinierenden und gleichzeitig gefurchtetsten Geschopfen, die die Natur hervorgebracht hat. Seit jeher haben Menschen Schlangen mit Neugier und Angst, aber auch mit Ehrfurcht und Abscheu betrachtet. Schlangen bedeuten extreme Gefahr, Ungewissheit, jedoch auch wertvolle Nahrung. In vielen Kulturen symbolisieren sie besonders Positives: Fruchtbarkeit, Verjungung, auch Frieden oder Heilung.
Das Buch ist in drei Teile gegliedert. Im ersten geht es um die Klassifikation und die allgemeine Biologie von Schlangen. Teil II gibt einen Überblick über alle wichtigen systematischen Gruppen der Serpentes. Im dritten und abschliessenden Teil sind Evolution und Biogeographie von Schlangen das Thema.
Harry W. Greene und die Photographen Michael und Patricia Fogden führen Wissenschaft und Kunst zusammen, um dem Leser die Schönheit und Faszination dieser Tiere zu vermitteln. Herausgekommen ist so eine einzigartige Lektüre für interessierte Laien sowie für Biologen, Herpetologen und Terrarianer.
BIC:
* Variable discounts between 0% and 15% are applied to items where BBfS cannot determine exact discounts from suppliers.