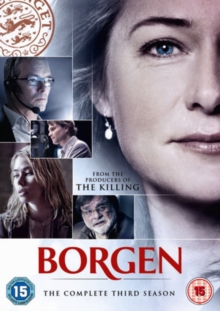 Borgen: The Complete Third Season
(15) Suitable for 15 years and over.
The third and final season of the Danish drama following a female politician's rise to power.
In this series, over two years have gone by and Birgitte Nyborg (Sidse Babett Knudsen) has left her position as prime minister as well as her political party, no longer agreeing with the direction they are taking.
After spending time out with her family, she decides to get back into the political world by forming a brand new party and, with help from journalist Katrine Fønsmark (Birgitte Hjort Sørensen), hopes to regain her powerful status.
The episodes are: 'A Child of Denmark', 'The Land Is Built On Law', 'The Right Shade of Brown', 'Their Loss...', 'Thou Shalt Not Commit Adultery', 'Sons of the Past', 'The Fall', 'If You Never Change Your Mind', 'Sense and Sensibility' and 'The Election'.