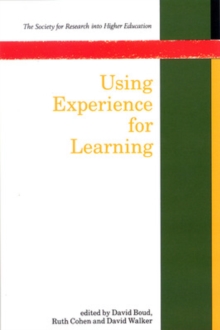 Using Experience For Learning
0335190952 / 9780335190959
Stock expected by 09/04/2020
153 x 230 mm, 320 grams 208 pages, Illustrations
What are the key ideas that underpin learning from experience?
How do we learn from experience? How does context and purpose influence learning? How does experience impact on individual and group learning?
How can we help others to learn from their experience? "Using Experience for Learning" reflects current interest in the importance of experience in informal and formal learning, whether it be applied for course credit, new forms of learning in the workplace, or acknowledging autonomous learning outside educational institutions.
It also emphasizes the role of personal experience in learning: ideas are not separate from experience; relationships and personal interests impact on learning; and emotions have a vital part to play in intellectual learning.
All the contributors write themselves into their chapters, giving an autobiographical account of how their experiences have influenced their learning and what has led them to their current views and practice. "Using Experience for Learning" brings together a wide range of perspectives and conceptual frameworks with contributors from four continents, and should be a valuable addition to the field of experiential learning.
BIC:
JNA Philosophy & theory of education, JNP Adult education, continuous learning