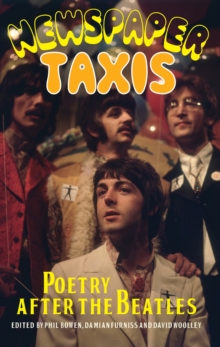 Newspaper taxis : poetry after the Beatles
1781720274 / 9781781720271
Usually dispatched within 2 weeks
You know they caused a revolution - 50 years ago the Beatles transformed the face of music, youth, and popular culture.
In January 1963 their first single - 'Love Me Do - was re-released and shot to number one, heralding the start of both Beatlemania and the swinging sixties.
In the next few years the Beatles wrote the template of both pop music and the supergroup.
Their songs defined popular culture at a time when it was inspiring social change in Europe and North America, and this book collects poems that both respond to the music and to their influence on the way we lived then and the way we live now.
Literally hundreds of millions of people around the world have listened to, and loved, the Beatles' music.
Their impact on musicians, writers, film-makers and ordinary people has been, simply, enormous.
With contributions by a myriad of poets, young and old, including Simon Armitage, Carol Ann Duffy, Elaine Feinstein, Peter Finch, Adrian Henri, Philip Larkin, Roddy Lumsden, Lachlan Mackinnon, Roger McGough, Sheenagh Pugh, Jeremy Reed and Carol Rumens, this book is a response to the Beatles' creativity and capacity to influence successive generations.
BIC:
* Variable discounts between 0% and 15% are applied to items where BBfS cannot determine exact discounts from suppliers.