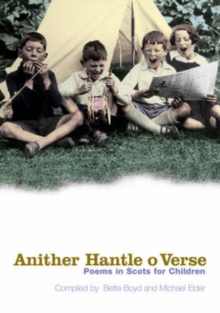 Anither hantle o verse : poems in Scots for children
1905267193 / 9781905267194
Stock expected by 24/04/2021
This is a collection of poems in Scots for children.
It follows the successful A Hantle o Verse compiled by Bette Boyd and Michael Elder, published in 2003 of whom Speaking English, The Journal of the English Speaking Board said: 'All lovers of Scottish poetry - teachers, festival organisers and speakers - should have this book on their shelves.' "The Scots Magazine" said '...it will be enjoyed by all ages.' This new volume has poems by Mtthew Fitt, Christine de Luca, JK Annand, Willa Muir, William Soutar, Marion Angus and Robert Burns; the collection also has traditional and 'Anon' verses.
It is illustrated by eight black and white photographs from NMS' Scottish Life Archives collection.
BIC: