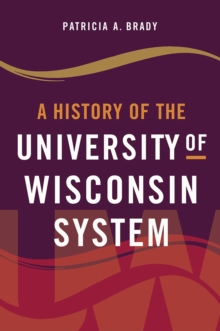 A History of the University of Wisconsin System
0299326403 / 9780299326401
152 x 229 mm 392 pages, 14 black & white photos
A tumultuous 1971 merger that combined all of the state's public colleges and universities into a single entity led to the creation of the University of Wisconsin System.
Drawing on decades of previously unpublished sources, Patricia A.
Brady details the System's full history from its origin to the present, illuminating complex networks among and within the campuses and an evolving relationship with the state. The UW System serves as a powerful case study for how broad, national trends in higher education take shape on the ground.
Brady illustrates the ways culture wars have played out on campuses and the pressures that have mounted as universities have shifted to a student-as-consumer approach.
This is the essential, unvarnished story of the unique collection of institutions that serve Wisconsin and the world-and a convincing argument for why recognizing and reinvesting in the System is critically important for the economic and civic future of the state and its citizens.
BIC: