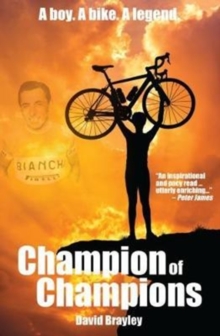 Champion of Champions
0993510191 / 9780993510199
What would you do if you were a professional road cyclist and, due to a run of bad injuries and loss of form, were told that your career would be over tomorrow, if you didn't do well in one of the world's toughest races?
Welcome to the world of Daniel Williams. Daniel's dream of being a leading professional cyclist is nearly over but, far from being worried, he believes he has the answer.
The only thing he's got to do is remember it. To do that, he needs to go back to the very beginning of his journey as a 14 year old bike rider, which began in the leafy lanes of Wales' Gower Peninsula and then made a shock detour to the empty roads of rural Italy.
It was there that he first came across what was to become his mantra - "to be the best that you can be" - by an eccentric man he had never met before.
The stranger introduced Daniel to the world of legendary Italian racer, Fausto Coppi, and inspired the teenage boy with stories of Coppi's excellence, bravery, success but ultimate heartbreak.
But the eerie man with the detailed knowledge hides a dark secret.
Once before he had tried to inspire a teenage cyclist and the horror of that episode is slowly revealed to Daniel. In a story that threatens to tear Daniel's family apart, will he be able to navigate this journey and call on the reasons that led him to be a professional cyclist in the first place.
If he can, he might just be able to deliver a performance in the infamous Milan-San Remo race that may save not only his career but everything his life has meant to this point.
Will the memories be too painful, or will they lead to ultimate success?
BIC: