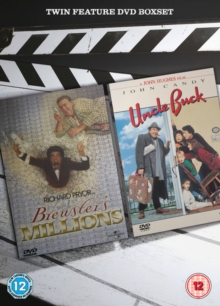 Brewster's Millions/Uncle Buck
French, German, Italian, Spanish
Bulgarian, Czech, Danish, Dutch, English, Finnish, French, German, Hungarian, Norwegian, Polish, Portuguese, Swedish, Turkish
(12) Suitable for 12 years and over.
Two popular comedies starring John Candy. In 'Brewster's Millions' (1985), Richard Pryor plays a man who stands to inherit $300 million - if he can first spend $30 million in 30 days without letting anyone in on the reason.
This proves harder than he'd imagined, even with the assistance of his friend, Spike (Candy).
In 'Uncle Buck' (1989), Candy plays the jobless, happy-go-lucky slob of an uncle who is asked to babysit his niece and nephew (Gaby Hoffman and Macaulay Culkin) at short notice.
His hidden flair for childcare soon emerges, even as his relationship with long-suffering girlfriend Chanice (Amy Madigan) takes a turn for the worse.