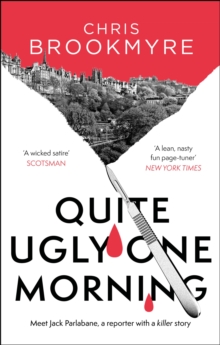 Quite ugly one morning
0349108854 / 9780349108858
Reprint. Originally published: London: Little, Brown, 1996.
The author won the First Blood Critics Choice for the Best Crime Novel of 1996
Yeah, yeah, the usual. A crime. A corpse. A killer. Heard it. Except this stiff happens to be a Ponsonby, scion of a venerable Edinburgh medical clan, and the manner of his death speaks of unspeakable things.
Why is the body displayed like a slice of beef? How come his hands are digitally challenged? And if it's not the corpse, what is that awful smell?
A post-Thatcherite nightmare of frightening plausibility, QUITE UGLY ONE MORNING is a wickedly entertaining and vivacious thriller, full of acerbic wit, cracking dialogue and villains both reputed and shell- suited.
BIC: