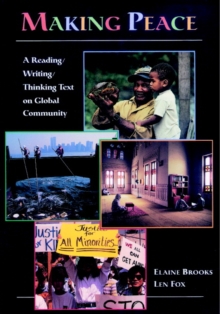 Making peace : a reading/writing/thinking text on global community
0521657806 / 9780521657808
Reprint. Originally published: 1999.
A reading/writing/thinking test on global community.
In the Student's Book, the authors use peace education issues as a way of helping students to improve reading and writing skills while sharing thoughts and concerns about cross-cultural issues.
This book promotes peaceful relations, respect, and understanding among nations, cultures, and groups, as well as across gender, race, class, ethnicity, and generations.
Using the topic of peace in the global community, this innovative reader provides content-based language instruction for students.
It offers selections on a variety of subjects ranging from conflict resolution and the creation of a more peaceful world, to environmentalism and education.
The text develops analytical and critical thinking, and includes integrated reading and writing activities.
BIC: