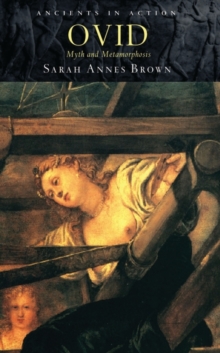 Ovid : myth and metamorphosis
1853996726 / 9781853996726
Usually dispatched within 4 weeks
general Learn More
research & professional
academic/professional/technical
The impact of Ovid's Metamorphoses on our culture can hardly be overestimated.
The poem is one of the most exciting and accessible classical texts, our key source for nearly all the famous myths of Greece and Rome.
Sarah Annes Brown offers a lively, and sometimes provocative, introduction to the Metamorphoses, exploring the impact of recent critical developments and tracing its rich afterlife in both high and popular culture.
The book's later chapters are devoted to five of the most memorable Ovidian stories - Apollo and Daphne, Actaeon, Philomela, Arachne and Pygmalion.
Each subtle and elusive story is found to have generated a huge range of creative responses.
The influence of the Pygmalion myth, for example, can be traced in Frankenstein, Vertigo and Blade Runner, as well as in the works of Chaucer and Shakespeare.
BIC:
2ADL Latin, DSBB Literary studies: classical, early & medieval, DSC Literary studies: poetry & poets