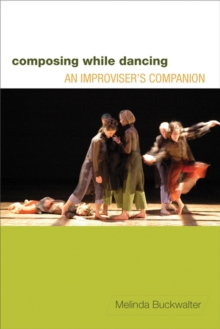 Composing while dancing : an improviser's companion
0299248143 / 9780299248147
Usually dispatched within 2 weeks
23 cm xii, 231 p. : ports.
Composing while Dancing: An Improviser's Companion examines the world of improvisational dance and the varied approaches to this art form.
By introducing the improvisational strategies of twenty-six top contemporary artists of movement improvisation, Melinda Buckwalter offers a practical primer to the dance form.
Each chapter focuses on an important aspect of improvisation including spatial relations, the eyes, and the dancing image.
Included are sample practices from the artists profiled, exercises for further research, and a glossary of terms.
Buckwalter gathers history, methods, interviews, and biographies in one book to showcase the many facets of improvisational dance and create an invaluable reference for dancers and dance educators.
BIC: