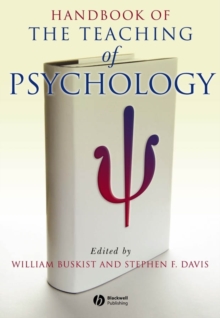 Handbook of the teaching of psychology
1405138017 / 9781405138017
Stock expected by 02/02/2020
postgraduate Learn More
research & professional
undergraduate
"The Handbook of the Teaching of Psychology" is a state-of-the-art volume that provides readers with comprehensive coverage and analysis of current trends and issues, basic mechanics, and important contextual variables related to effective teaching in psychology.
Using concise and targeted chapters, written by leading scholars in the field, the volume explores a myriad of challenges in the teaching of psychology and employs a prescriptive approach to offer strategies and solutions to frequently occurring dilemmas.
This book is a lively and informative volume that covers the gamut of current topics of interest to all current and future teachers of psychology.
BIC: