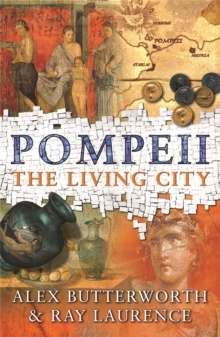 Pompeii : the living city
0753820765 / 9780753820766
Stock expected by 21/11/2019
20 cm [ix], 417 p., [16] p. of plates : ill. (chiefly col.)
Reprint. Originally published: London: Weidenfeld & Nicolson, 2005.
Pompeii has universal fascination - every year more than 2 million people visit it 'Perhaps the most impressive feature is the sheer detail, and the lightness of touch in presenting it' Sunday Telegraph 'Brings Pompeii startlingly alive once more' History Today 'This book attempts to restore meaning to the dusty ruins, with notable success...It is the great achievement of this book that we feel we know these people, and their tragedy moves us. The life and death of Pompeii is evoked with verve and authority' Observer 'A splendid piece of imaginative re-creation' Literary Review
This startling new book concentrates on the twenty years between 59 and 79AD, thus beginning with the earthquake which all but destroyed Pompeii and ending with the volcanic eruption which has become part of our collective popular imagination.
Alex Butterworth and Ray Laurence have synthesised the latest research into Pompeii to bring this period of flux and instability back to life.
By concentrating on key members from each strata of Pompeiian society we are plunged into the everyday life of a city rebuilding itself, in the knowledge that it will all be for nothing when Vesuvius erupts.
So we follow Suedius Clemens who has been sent by Vespasian to settle disputes over land; Decimus Satrius Lucretius Valens who is set to join Pompeii's elite magistrates following the death of his protector; the Vettii brothers who were fabulously rich and ostentatious dealers in wine and perfume; Pherusa, the runaway slave; lusty young Rustus who is contemplating parricide...
BIC:
1QDAR Ancient Rome, HBJD European history, HBLA Ancient history: to c 500 CE, HDDK Classical Greek & Roman archaeology