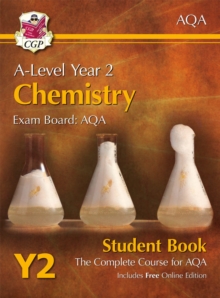 A-Level Chemistry for AQA: Year 2 Student Book with Online Edition
1782943269 / 9781782943266
192 x 255 mm, 776 grams 340 pages
This superb CGP Student Book has everything students will need for success in Year 2 of AQA A-Level Chemistry - and it's fully up-to-date for the new specifications for 2015 and beyond!
It contains in-depth, accessible notes explaining every topic, supported by clear diagrams, photographs, tips and worked examples.
To test students' knowledge and understanding, there are practice questions and exam-style questions throughout the book - with complete answers included.
There's also detailed guidance on Maths Skills, Practical Investigations and indispensable advice for success in the final exams.
An access-code for a free Online Edition is also included, allowing you to read the entire book on a PC, Mac or tablet.
BIC: