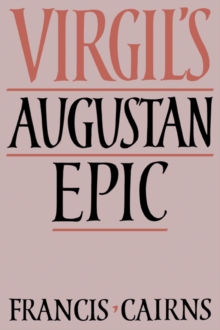 Virgil's Augustan epic
0521034965 / 9780521034968
Usually dispatched within 4 weeks
1 online resource (1 online resource.)
Description based on CIP data; resource not viewed.
An examination of the main characters in the Aeneid - Aeneas himself, Dido and Turnus - in the light of Virgil's contemporary Augustan political and literary ideology.
The characters and the plot and incident of the epic are seen as embodying and exemplifying first the ancient ideals of kingship and concord, and second the Roman self-identification as at once 'Italian' and 'Trojan', and finally as reflecting the literary self-evaluation of the Augustan age.
In the literary area, Virgil's relations with contemporary Roman elegy, with early Greek lyric and, most important, with Homer, are studied and reevaluated.
Virgilian scholars and students of Augustan literature in general will find this book of interest to them.
BIC:
2ADL Latin, DSBB Literary studies: classical, early & medieval