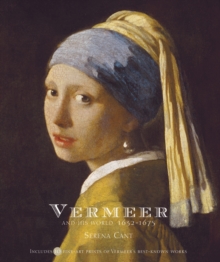 Vermeer and his world, 1632-1675
1849160058 / 9781849160056
Usually dispatched within 2 weeks
Includes pull-out prints.
Johannes Vermeer (1632-1675) is recognized as one of the foremost painters of the Dutch Golden Age.
This period witnessed an explosion of artistic activity in which an unprecedented number of painters depicted an increasingly diverse range of subjects.
Vermeer's subjects are absolutely typical of the Golden Age, yet his vision is supremely distinctive. Vermeer and his World begins with a comprehensive introduction to Vermeer and his paintings: from his early life and influences, key themes and inspirations to his artistic vision and technique.
A virtual gallery presents an illustrated timeline of Vermeer's entire oeuvre in chronological order.
Individual chapters showcase all 36 works attributed to Vermeer in giant size accompanied by an informative commentary on the historical context, explanations of key themes and box features on how particular paintings have influenced and inspired other works.
The book also contains an envelope with ten pull-out prints of Vermeer's best-known work reproduced at actual size. Diana and her Companions; A Lady Writing; Christ in the House of Martha and Mary; Girl with a Pearl Earring; Officer and Laughing Girl; Girl with a Red Hat; The Procuress; The Art of Painting; A Maid Asleep; Study of a Young Woman; Young Woman Reading a Letter by an Open Window; Girl with a Flute; The Little Street; Mistress and Maid; The Milkmaid; The Astronomer; Girl Interrupted in her Music; The Geographer; The Glass of Wine; The Love Letter; The Girl with a Glass of Wine; The Lacemaker; Woman in Blue Reading a Letter; The Guitar Player; The Music Lesson; A Young Woman Seated at the Virginals; Young Woman with a Water Pitcher; Allegory of Faith; Woman with a Lute; Lady Writing a Letter with her Maid; Woman with a Pearl Necklace; A Lady Standing at a Virginal; Woman Holding a Balance; A Lady Seated at a Virginal; The Concert.
BIC:
3JD c 1600 to c 1700, ACQB Art & design styles: Baroque, AFC Painting & paintings, AGB Individual artists, art monographs