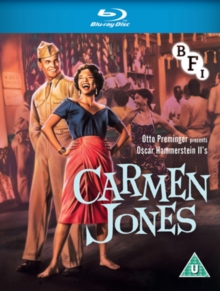 (U) Universal, suitable for all.
Otto Preminger directs this modernised adaptation of Bizet's opera that features an African-American cast.
Vixen parachute maker Carmen Jones (Dorothy Dandridge) lures handsome GI Joe (Harry Belafonte) away from his sweetheart Cindy Lou (Olga James) when he is assigned to escort her to court after she's involved in a brawl in her factory.
She succeeds in seducing him but Carmen soon tires of Joe, runs off and pursues champion prizefighter Husky Miller (Joe Adams), triggering Joe's tragic revenge.
Commentary: Adrian Martin
Other Documentary: 'Karen Alexander On Carmen Jones', 'The Guardian Lecture: Harry Belafonte'