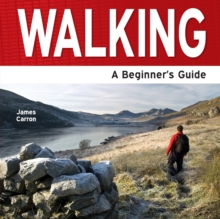 Walking : a beginner's guide
1861441010 / 9781861441010
Usually dispatched within 2 weeks
21 cm 151 p. : ill., maps
In Great Britain there are so many places where you can go to enjoy nature, the environment, the tranquility and at the same time get some exercise.
Some people prefer gentle walks to really take in the details of the natural environment, others prefer challenging hikes through rugged terrain, whichever you prefer this book will provide comprehensive coverage of all the relevant issues.
Walking: A Beginner's Guide has information on preparation, equipment and what to bring, planning your route, using maps and guides, walking with children, responsible walking, advice on how to observe rights of way and rules concerning dogs.
There is also information on choosing the right landscape and terrain for your fitness and experience levels.
Everything a novice walker will need to get started.
Once you have progressed and are a little more experienced, the book provides information on hill walking, using specialist hiking equipment, avoiding injury and where the best walks in Britain can be found.
There is also a section for those who are after some adventure, with information on mountain hikes, long distance trails, backpacking and wild camping!
BIC: