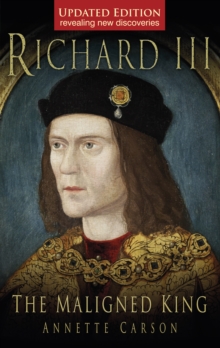 Richard III : the maligned king
0752452088 / 9780752452081
20 cm 320 p. : ill. (chiefly col.)
Reprint. Originally published: 2008.
In 2012 Annette Carson formed part of the team that discovered King Richard III's mortal remains, verified in 2013 by forensics including DNA matching.
In response to the recent upsurge of interest, her 2009 paperback has been updated with details of the discovery plus new illustrations, and a larger typeface for easier readability.
Carson's premise is that for centuries the vision of Richard III has been dominated by the fictional creations of Thomas More and Shakespeare.
Many voices, some of them eminent and scholarly, have urged a more reasoned view to replace the traditional black portrait.
This book seeks to redress the balance by examining the events of his reign as they actually happened, based on reports in the original sources.
Eschewing the overlay of assumptions so beloved by historians, she instead traces actions and activities of the principal characters, using facts and time-lines revealed in documentary evidence.
In the process Carson dares to investigate areas where historians fear to tread, and raises many controversial questions.
BIC:
1DBK United Kingdom, Great Britain, 3H c 1000 CE to c 1500, HBJD1 British & Irish history, HBLH Early modern history: c 1450/1500 to c 1700