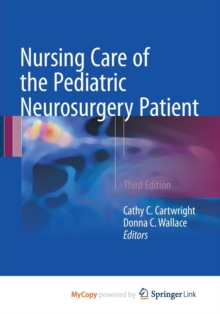 Nursing Care of the Pediatric Neurosurgery Patient
3319493205 / 9783319493206
Usually dispatched within 4 weeks
This updated third edition is a detailed reference for nurses and other health care providers who care for children with neurosurgical conditions.
The explanations of pathophysiology, anatomy, neurodiagnostic imaging, and treatment options for each neurosurgical diagnosis will help to clarify the rationale behind the nursing care.
Descriptions of presenting symptoms, history and findings on neurological examination will help nurses understand the neurological disorder and identify problems.
New chapters have been added on skull and scalp anomalies, pediatric concussion, abuse head trauma and on neuroimaging.
Each chapter includes case studies, impact on families, patient and family education, and practice pearls.
Staff and student nurses working in clinics, critical care units, pediatric units, operating rooms, post-anesthesia care units, emergency departments, and radiology departments will benefit from the information presented.
Although this book is written for nurses, child life therapists, physical and occupational therapists, medical students and neurosurgery residents will also find it helpful.
Parents of children with neurosurgical disorders will also find it a useful resource in understanding their child's condition.
BIC: