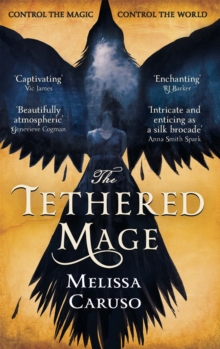 The tethered mage
0356510611 / 9780356510613
20 cm 434 pages : maps (black and white)
***SHORTLISTED FOR THE 2018 GEMMELL AWARD FOR BEST DEBUT***'I couldn't put it down' Genevieve Cogman, author of The Invisible Library'I raced through this exquisite debut in three days and adored it' Fantasy Book ReviewIn the Raverran Empire, magic is scarce and those born with power are strictly controlled - taken as children and conscripted into the Falcon Army.
Zaira has lived her life on the streets to avoid this fate, hiding her mage-mark and thieving to survive.
But hers is a rare and dangerous magic, one that could threaten the entire empire. Lady Amalia Cornaro was never meant to be a Falconer.
Heiress and scholar, she was born into a treacherous world of political machinations.
But fate has bound the heir and the mage. And as war looms on the horizon, a single spark could turn their city into a pyre. SET IN A RICH WORLD OF POLITICAL INTRIGUE AND DANGEROUS MAGIC, THE TETHERED MAGE IS A SPELLBINDING DEBUT FROM A MAJOR NEW TALENT. 'Absolutely recommended and on my shortlist for favorite books so far in 2017'Book Smugglers'A brilliant novel' The Eloquent Page'Fantastically readable, incredibly addictive and intelligently plotted . . . I loved it' Liz Loves Books'If you like fantasy, you'll love this book' The Tattooed Book GeekBooks by Melissa Caruso:Swords and FireThe Tethered MageThe Defiant HeirThe Unbound Empire
BIC: