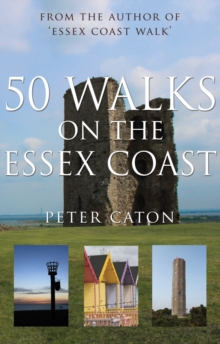 50 walks on the Essex Coast
1785892576 / 9781785892578
24 cm 200 pages : illustrations (colour), maps (colour)
A walking guide describing 50 walks along the Essex coast, the longest coastline of any English county.
Peter Caton discovered the wonderful Essex coastline as he narrated his journey along its whole length, writing Essex Coast Walk (Matador, 2009).
He now describes walks covering the entire publicly accessible coast, helping others to follow in his footsteps.
Detailed route instructions are provided, along with high-quality maps, while background information and colour photos add context and interest.
Following rivers, creeks and open sea, on paths, tracks and promenades, often with circuits completed across countryside, the walking and views are varied.
There is much history and wildlife to be seen as the walker discovers picturesque villages, smugglers' haunts, nature reserves and little-known gems along the coast.
Walks range from 2 to 15 miles, with most having different length options, plus the possibility of linking adjoining routes.
Produced in full colour, 50 Walks on the Essex Coast is an invitation for serious ramblers, or those looking for just an afternoon stroll, to discover the hidden magic of the Essex coast.
BIC:
1DBKEAX Essex, WSZC Walking, hiking, trekking, WTH Travel & holiday guides