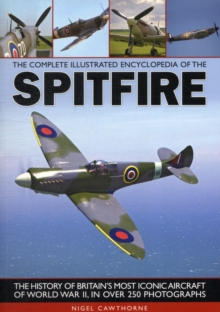 The complete illustrated encyclopedia of the Spitfire : the history of Britain's most iconic aircraft of World War II, in over 250 photographs
1780190344 / 9781780190341
22 cm 256 p. : ill. (some col.), map, ports. (some col.)
Reprint. Originally published: as Spitfire. Wigston: Bookmart, 2009.
This title tells the story of an iconic aircraft from World War II, that is illustrated with over 250 colour and black and white photographs.
It takes you through the creation, construction, production and history of the Spitfire, as well as its role in the major battles of the war.
It includes moving first-hand accounts from the pilots who flew the Spitfires, including both their experiences in combat and the way of life for the RAF at that time.
It features a fascinating and engaging narrative written by a leading military history expert.
It lists sites where surviving Spitfires can be viewed today so you can go and see this incredible aircraft for yourself.
It compares the Spitfire with other great fighters - both Axis and Allied - in the skies at the time.
It shows how the famous fighter plane had its origins in a series of trophy-winning seaplanes from the 1920s and 1930s, and how it was developed.
This engrossing book retells the story of the iconic aircraft of World War I.
It goes into the heart of the action, showing what it was like to fly a spitfire in the Battle of Britain, and tells the moving stories of the brave young pilots who flew this all-conquering machine. In addition, this book lists where surviving planes can be seen today so that you see the incredible aircraft for yourself.
The fascinating and informed text, written by a leading expert in the field and accompanied by over 250 stunning contemporary and historical photos, make this the ultimate reference for anybody with an interest in military history or aviation.
BIC:
HBWQ Second World War, JWMV3 Military aircraft, WGM Aircraft: general interest