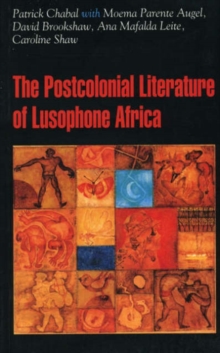 The post-colonial literature of Lusophone Africa
1850652511 / 9781850652519
Stock expected by 06/08/2021
postgraduate Learn More
research & professional
undergraduate
This work examines the Portuguese and "crioulo" literatures of the five African Portuguese-speaking countries: Angola; Cape Verde; Guinea Bissau; Mozambique; and Sao Tome and Principe.
It offers an introduction to the cultural and historical context within which literature developed in Lusophone Africa, as well as a discussion of the prose and poetry published by the writers from these five countries since independence.
As such, the volume is intended not only as a textbook for the student of the literatures of the five Lusophone countries, but also as a cultural and intellectual foundation for the specialist reader with an interest in the former Portuguese colonial empire.
The work is innovative in three ways. First, it combines a literary and historical approach that aims to help explain the very complex processes by which literature emerged in African societies notable for their intricate, racial, ethnic, linguistic and cultural diversity. Secondly, it links African Lusophone literature to its three major cultural settings - the oral cultural tradition of African or "crioulo" literatures, the broader context of Portuguese-language literature in Portugal and Brazil, and the 20th-century development of a distinct black and/or Negritude literature in North America, the Caribbean and Europe.
Finally, it discussess the ways in which Lusophone African literature relates more widely to the emergence of an original modern literature in post-colonial Africa.
BIC:
1HFDV Cape Verde, 1HFDX Guinea-Bissau, 1HFJS Sao Tome & Principe, 1HFMA Angola, 1HFMQ Mozambique, 2ADP Portuguese, DSBH Literary studies: from c 1900 -