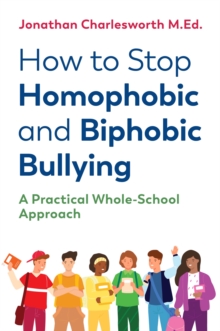 How to stop homophobic and biphobic bullying : a practical whole-school approach
1787753069 / 9781787753068
23 cm 192 pages : illustrations (black and white)
Primary & Secondary Education (US: Elementary & High School) Learn More
Professional & Vocational
Tertiary Education (US: College)
This vital teachers' guide to challenging homophobic and biphobic bullying offers unique insights to address the issue at its core.
With a renewed focus on a whole school approach, it builds capacity in those who work with young people and inspires an inclusive approach in every setting.
Laying out clear advice on how to recognise, stop and prevent homophobic and biphobic bullying, readers are given strategies to work with its perpetrators, bystanders and targets.
The author explains how to handle disclosures regarding sexual orientation and provides advice on effective Anti-Bullying Policy referencing homophobic and biphobic bullying.
Based upon the work of the UK's leading and award-winning LGBT+ anti-bullying charity Educational Action Challenging Homophobia (EACH) this book additionally explores why young people are too often reluctant to report these forms of bullying; the increasing role of the online environment and the profound impacts bullying can have well into adulthood.
Written by an expert in this field, this essential guide is for teachers, youth workers, the care sector and anyone with a duty of care towards young people.
BIC:
JFSK Gay & Lesbian studies, JNH Education: care & counselling of students, JNHB Bullying & anti-bullying strategies