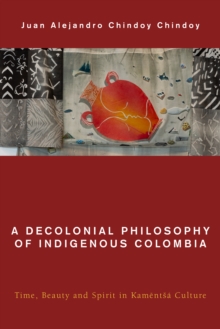 A decolonial philosophy of indigenous Colombia : time, beauty, and spirit in Kamèentésâa culture
1786616297 / 9781786616296
Philosophically addressing three fundamental aspects of the Kamentsa, an indigenous culture located in the Southwest of Colombia, this book is an investigation of how a native culture creates meaning.
Time, beauty and spirit are key philosophical experiences within the Kamentsa Culture which should be interpreted both as constituting and as constituted symbols because of their historicity and actuality and their potential power of transformation.
The book addresses these living symbols that take hold of the past but whose significance goes beyond their antiquity through the traditions of storytelling and dance, ritual, healing and ceremony as well as the fraught political histories of colonialism and the ownership of the land.
The author, raised within Kamentsa Culture, weaves personal experience with philosophical insights and significance of the Kamentsa culture, presented through its own frameworks and narratives.
The philosophical dimensions of Kamentsa culture are articulated and contextualized within a legacy of colonial domination by long-term Spanish and Catholic rule that enacts the necessary separation of Kamentsa ideas from their representations through Catholic hermeneutic approaches.
However, the book also embraces intercultural philosophical engagement, as the methodological approach is formed partly through some modern and contemporary Western thinkers as well as indigenous writers and figures like Carlos Tamabioy and N.
Scott Momaday.
BIC: